Endeavour Foundation's Maryborough social enterprise teaches people with disability skills to further their careers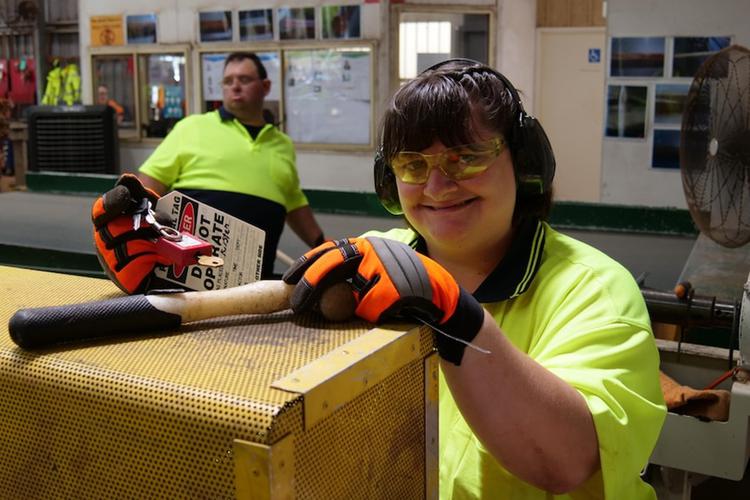 Kirsten Drier pictured above at her workplace, the Endeavour Foundation Business Solutions – Maryborough, a social enterprise and timber operation in Queensland.
Ten years ago, Kirsten Drier was afraid her disability would be a barrier to getting a job. Now, Ms Drier is teaching others the tricks of the trade in an industry usually dominated by men.
"People just don't understand disability and how good we can be at things," she said.
"It can be frustrating because we just need to be given an opportunity to prove we can be a really good worker."
Ms Drier, who has autism, helps train new employees at the Endeavour Foundation timber operation in Maryborough, three hours' north of Brisbane.
She said a high school teacher opened her career pathway by asking her if she "was any good at manual arts?" Ms Drier then thought, "OK yeah, I'll give this a shot'."
Working with wood
Endeavour Foundation's timber yard produces more than 800,000 wooden stakes and products for mines and other industries each year.
Every task on site is performed by one of its 43 employees witha disability who are supported by Endeavour Foundation staff.
It is part of the disability service provider's mission to give people with intellectual disability the skills they need to pursue future employment.
The charity runs 28 employment sites from Cairns to Melbourne in industries ranging from food packaging to timber products and e-waste recycling services.
"It's about providing the opportunity for our employees to go as far as they want to go, in their own time," Endeavour Foundation senior business manager, Scott Reed, said. "[That's] with the knowledge that if there is the opportunity for them to move into open employment into the future, that can and will happen."
National Disability Services Queensland manager Jason McKey said people with disability were often overlooked for roles that they would fill with ease. He noted, "There is certainly some stigma surrounding employing people with disability Australia-wide."
"A lot of it is basically ignorance on the part of people not realising the terrific potential that they're missing out on employing people with disability."
At the Maryborough timber yard, workers gain qualifications in forklift driving, sawmilling, and other skills.
"We had forklift drivers here, they went elsewhere and got a job and they're loving it and they're happy," Ms Drier said.
"Without this workplace, we'd just be sitting at home bored doing nothing."
A 'win-win'
Mr McKey said more education about hiring workers with disability would lead to far greater economic benefits.
"If you walk down the street today, you see so many vacancies, people wanted, and they're overlooking the fact that people with disabilities can do the job," he said.
"It's a win-win for the person, the employer and the Australian economy."
Ms Drier said she hoped to one day secure a job outside the timber yard, but she was content in her role.
"They keep me busy here and if I can improve other people's skills and help them out, then that's a really good day," she said.
Content courtesy of Endeavour Foundation and the ABC.