IncludeAbility employment pilot delivers fresh opportunities for Good Sammy, Woolworths and Jobseekers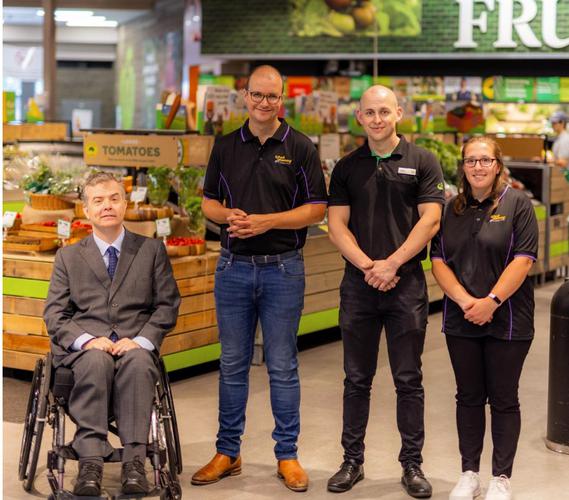 Pictured above: Former Disability Discrimination Commissioner Dr Ben Gauntlett, Good Sammy CEO Kane Blackman, Woolworths Subiaco Store Manager Arran Ashton and pilot project participant Kayla Barton.
Social Enterprise Good Sammy has been involved in a collaboration with Woolworths and the Australian Human Rights Commission (AHRC) that will deliver employment opportunities for young people with intellectual disability.
Approximately 20 Good Sammy employees trained and worked in seven Woolworths stores in Perth during the 12-week pilot program. Each employee, aged 16-35 with intellectual disability worked in roles including grocery, customer service and bakery.
Good Sammy provided support to each person along with support provided by Woolworths and the AHRC's IncludeAbility project.
The AHRC provided training on effective and inclusive employment of people with disability to Woolworths' team leaders in stores participating in the pilot. Woolworths will use learnings from the pilot to improve inclusive employment and the experiences of its team members across its broader network.
The opportunity for Good Sammy to participate in the pilot was made possible through Woolworths' membership of the AHRC's IncludeAbility project.
Good Sammy Chief Executive Officer Kane Blackman thanked Woolworths and the AHRC for the opportunity to work with them on this initiative.
"This opportunity aligns superbly with Good Sammy's focus on providing employment and development opportunities for people with disability, and opening up new pathways for local talent," Mr Blackman said.
"We are a natural partner for Woolworths given the skills and experience of our staff in retail, warehousing, logistics and customer service, and the geographic spread of our operations in Western Australia."
Woolworths Disability Inclusion Lead Geoff Trappett (OAM) said the retailer was pleased to be exploring new pathways for Australians with disabilities to join its store teams.
"We believe it's important for our teams to reflect the diversity of the communities they serve, and we're excited to be gaining 20 new team members to support our busy Perth stores during the trial," Mr Trappett said.
"While we employ many people with disabilities, we know we can always do better and we're hopeful that what we learn from this trial will lead to better experiences for team members in our stores.
"We look forward to supporting our newest recruits as they learn about working in a supermarket and we thank Good Sammy for helping bring about this opportunity."
Former Disability Discrimination Commissioner, Dr Ben Gauntlett, said improving employment opportunities for people with disability benefits individuals, businesses, society and the Australian economy.
"The IncludeAbility project aims to address the disability employment participation gap by building greater capacity among employers to address employment barriers for Australians living with disability.
"As one of the project's Employer Network Members, I thank Woolworths for participating in this pilot project. Our largest businesses have an important role in leading by example when employing people with disability. Woolworths have shown great leadership in supporting the project."
"Good Sammy have highlighted the importance of leading disability service providers focusing on the needs of people with disability and being innovative in their approach to employment and employment opportunities."