KBH Enterprises awarded Westpac Community Grant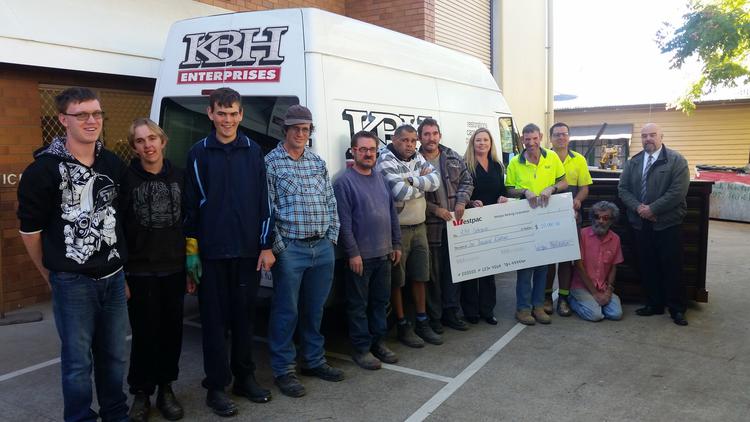 1st July 2016 - The Chronicle
KBH ENTERPRISES has been awarded with a Westpac Foundation Community Grant worth $10,000 in support of their outstanding efforts improving the lives of the disabled.
The Toowoomba based community organisation KBH Enterprises is a social enterprise employing people with individual support needs in a woodworking and furniture restoration workshop.
KBH Enterprises General Manager Paul Brooker said, "Our new project, supported by the Westpac Foundation is a vital stepping stone to create pathways for young people with disabilities from the protected environment of school into the workplace."
In addition, KBH Enterprises will also receive additional support which includes a Westpac Foundation Community Grants Ambassador, mentoring, training and networking opportunities.
In Queensland, Westpac Foundation has this year provided $164,588 worth of community grants to 17 grassroots organisations with innovative ideas to create more cohesive communities and create brighter futures for those at risk.
This includes $65,693 in donations from generous Westpac employees and customers.
Over the past five years, Westpac Foundation Community Grants have provided more than $707,183 to Queensland not-for-profits who are making a difference locally.
Cara Jones, Westpac Regional General Manager, Southern Queensland said, "We are delighted to present KBH Enterprises with a Westpac Foundation Community Grant of $10,000. This organisation will now be able to continue their fantastic work in Toowoomba, providing much needed support for the disabled.
"At a national and local level, we are thrilled to deliver our promise of helping communities to prosper and grow. The annual Westpac Foundation Community Grants program is important to our employees who are proud to be part of an initiative that gives back and recognises the outstanding efforts of groups across the country."
One hundred community organisations have this year received a record $955,000 worth of grants from the Westpac Foundation, valued at up to $10,000 each.
Since 2012, 369 Community Grants worth over $3.5 million have been invested in projects across the country that improve the lives of Australia's most disadvantaged; helping to create positive opportunities and create social inclusion.
For more information on the Westpac Foundation Community Grants program and this year's recipients, please visit www.westpac.com.au/westpacfoundation.
This is from The Chronicle