Natural leaders Rhonda and Nakoa find friendship and purpose at Clean Force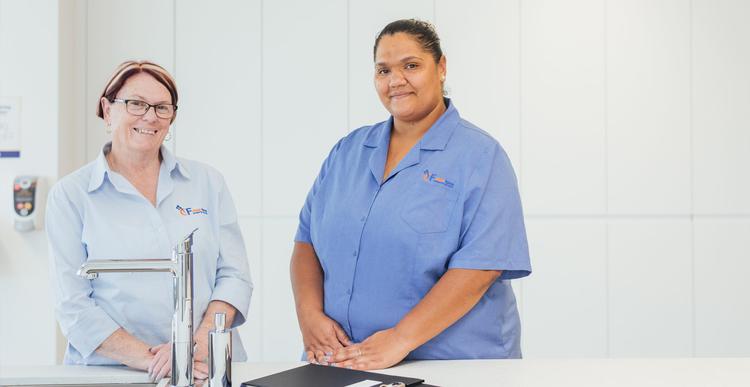 As natural caregivers, Rhonda and Nakoa have each taken significant breaks from employment to focus their time on supporting their families and community. Proud Aboriginal and Torres Strait Islander women and members of the AMES mentoring program, both women were introduced to Clean Force when NSW Operations Manager, Tony Daoud, was invited to speak to the group about the organisation and its unique hiring philosophy.
As a social enterprise with approximately 50% of employees diagnosed with a disability or disadvantaged, Tony highlighted that at Clean Force, the team are more interested in enthusiastic job seekers than prior work experience.
As Tony says, "If you show me you have a great attitude and appetite to work, I'll give you a job".
Inspired by Tony's passion for the company, Rhonda reached out that very afternoon. Nakoa, who started that day unsure she even wanted to begin a new career, shortly followed.
Starting out as cleaners, Rhonda and Nakoa joined the team at Paramatta Square, keeping the environment clean and workable for the Department of Customer Service and the Department of Planning, Industry and Environment. Within weeks, Tony had recognised their leadership qualities and promoted them to supervisors. Being out of the workforce for so long, both were surprised to advance in the organisation in such a short time period.
"I always wanted to be a leader, however I didn't think that it would happen so quickly. I didn't believe in myself before starting this role but being a supervisor has given me a lot more self-esteem. I now realise I'm intelligent, confident and outspoken," explained Rhonda.
Through COVID-19, Rhonda and Nakoa have not only had to navigate leading a team for the first time but also adapting to stringent new workplace hygiene standards. Focused on keeping the government workers and their own team safe, Rhonda and Nakoa have had to step up their cleaning duties – including ongoing sanitisation of each level throughout the day.
Josylin Saunders, Senior Manager of Workplace Services at the Department of Planning, Industry and Environment, is extremely pleased with Rhonda and Nakoa's work in the building. "Rhonda and Nakoa's continued efforts during COVID-19 have provided peace of mind to all the Department of Planning, Industry and Environment employees at Parramatta Square, knowing that they are taking all measures to protect their health and safety.
"Nothing is ever too hard or is met with objection and they have both shown true dedication and support not only for our team but the Clean Force crew they lead on site" she said.
Coming from similar backgrounds and starting their roles around the same time, it was easy for Nakoa and Rhonda to form a strong professional relationship and friendship too. They've been able to support each other through the transition and are always ready for when a new challenge is thrown their way.
Nakoa says because of this, and their amazing team, coming to Paramatta Square doesn't feel like work.
"I love everything about it! The building, staff and management are all really great. It's lovely to come to work because the people are amazing. The staff see the great bond Rhonda and I have and it helps them know we're approachable and always available when they need us."
Tony has noticed the benefits of their friendship too. "Working together as a team so well, and with the whole cohort, they make my job a lot easier. They're a real asset to the company."