Organisation Details
Brief description
The Flagstaff Group is a Supported Employment Enterprise employing 280 people with a disability, who are provided sustainable employment, training, skills development, independence, social inclusion and the opportunity to enhance their lives. Located in the Illawarra and Shoalhaven regions, Flagstaff operates 7 main businesses including a printery, cafe, commercial laundry, frozen meal production, coffee roasting, recycling and manufacturing.
As a not-for-profit organisation, Flagstaff reinvests all profits back into its social mission of enhancing the lives of people with a disability by providing employment, skills and training. Get in touch today to know more about Flagstaff or to utilise our quality goods and services, which all provide a social return!
The contribution we make to the community
Flagstaff delivers valuable education and positively adjusts mindsets about people with a disability. Many employees have the opportunity to interact directly with customers and the community. This inclusion actively demonstrates their abilities in working across a wide range of divisions and jobs.
Flagstaff also positively impacts the community through the provision of meaningful work, social inclusion, and skills development opportunities. Flagstaff forms community partnerships to deliver training and hands-on work experience, as well as collaborating with like-minded not for profit organisations to enhance positive social outcomes, and supporting initiatives that benefit the community.
How supported employees and their families benefit
Flagstaff provides social, independence, and skills development opportunities that support employees with a disability to unlock their potential and achieve their goals. Many people with a disability face barriers to employment. Providing these opportunities has benefits beyond earning a wage. Socially, employees gain independence and confidence as they spend more time at work. Employees can access a higher quality of life and services to help them engage in the community, such as using public transport. The time employees spend at work allows their families and carers to participate in the workforce, and reduces reliance on Government support and care services.
Organisation contacts
Business Contact
Flagstaff Head Office
Ph: 02 4272 0222
Em: marketing@flagstaffgroup.com.au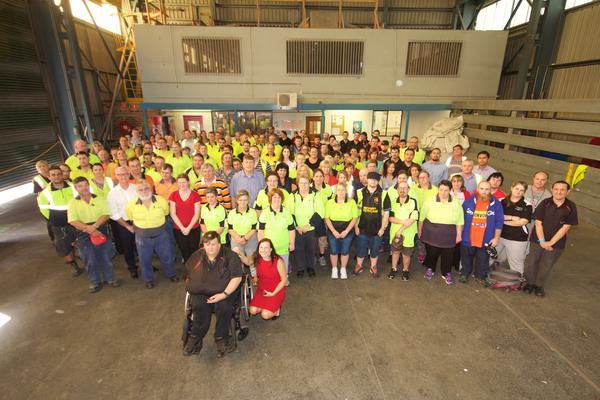 ---
Outlets (14)