Organisation Details
Brief description
With a proud history of servicing the Health and Aged Care Sector for over 120 years, Holy Cross is the longest serving commercial laundry operating in Australia. Employing more than 210 people, and processing more than 6,000 tonnes of laundry per year at our state of the art facility in Banyo, Holy Cross Laundry are experts you can trust.
Holy Cross provide our clients' the highest quality linen, flexible service delivery options and an intense focus on reliability, so you can focus on your core business while we manage the rest.
Our Clients' benefit from:
 *Pick-up and delivery
 *Detailed reporting to reduce costs and manage accreditation requirements.
 *Custom engineered laundry management system to ensure delivery in-full, on-time, every-time.
 *Quality control – continuous quality monitoring and satisfaction guarantee.
 *Scalability – our responsive account managers can scale services up or down as required to suit your needs i.e. during times of illness or infection.
The contribution we make to the community
Holy Cross Laundry provides hire linen services to the major hospitals, aged care facilities and hospitality venues in the Brisbane and surrounding regional areas, including the Gold Coast, Gympie, Sunshine Coast and Toowoomba. We are a Mercy Ministry with a mission to provide employment opportunities to all with a focus on people with disability and the disadvantaged within the community as well as Mainstream employment. As a Disability Enterprise we employ 38 people in Supported Employment; have open employment opportunities, are a host employer for the Work for the Dole program and have a school and adult work experience program. We are a fully integrated workplace with a diverse workforce.
How supported employees and their families benefit
Holy Cross Laundry has a close relationship with our Supported Employees and their families. The skills and disciplines learnt in the work environment transfer in to everyday life at home and it is important to us that we work with families to understand our employee's needs, strengths and areas that require improvement. By doing this we can provide the one on one support to each employee and strive to achieve the best outcomes for them. As a Mission based organisation and from feedback received, this is not only important to us but also to those who we do business with.
Organisation contacts
Business Contact
Troy McDowell
Ph: 07 3637 9299
Em: t.mcdowell@hcl.org.au
HR Contact
Mandy Ross
Ph: 07 3637 9250
Em: m.ross@hcl.org.au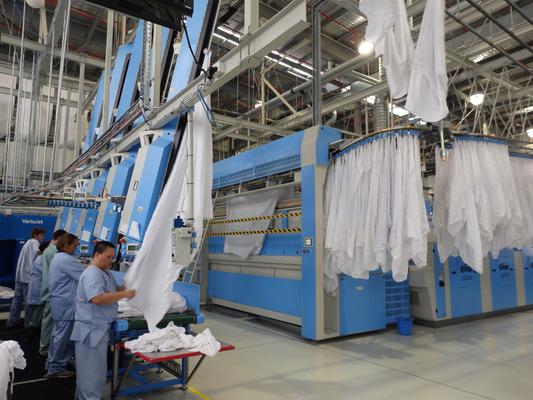 ---
Outlets (1)