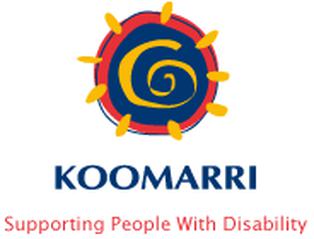 Organisation Details
Brief description
Koomarri is a respected not-for-profit organisation with more than 65 years of operation in the ACT and NSW. At Koomarri, we support people who experience disability to lead meaningful and productive lives. Koomarri's business, community and residential services support more than 300 people and their families across Canberra and southern NSW.
The contribution we make to the community
Koomarri provides support for people to connect and be actively involved in the life of their local community. Once we get to know you through developing a personalised plan, Koomarri can support you in participating in skill development, hobbies and community activities based on your personal goals and aspirations.
At Koomarri, we acknowledge that everyone is an individual – we are different ages, we have had different life experiences and we like different things. This is why Koomarri will offer you:
support that matches your interests and aspirations
choice about the people (or staff) who work with you
support that is best suited to you and what you need to be happy and engaged in your local community life
opportunities to connect with people and places in your community that interest you.
How supported employees and their families benefit
Koomarri provides support to people living in shared supported accomodation services which operate within a Family Governance model of support.
What this means is that Koomarri work collaboratively with the residents and their families in providing a home that encourages and enables independence through person directed supports; in consultation with families engages specialist staff to provide support including personal care and skills devleopment under an active support framework; and support to be actively involved in the community in which they live.
At Koomarri we value innovation and new ideas, so we welcome people and their families talking with us about different ways we could support you in your home by yourself or with others.
Organisation contacts
Business Contact
Ralph Fortmann
Ph: 02 6280 6143
Em: rfortmann@koomarri.asn.au
---
Outlets (3)