Organisation Details
Brief description
The Mai-Wel Group offers a variety of innovative solutions for individuals and businesses.
Mai-Wel provides quality products and services made by people with a disability.
These products and services include; pallets, crates, custom made furniture, light metal fabrication, confidential document destruction, rag cutting, document scanning and archiving, product packaging and assembly, mail-outs plus much more.
As a customer of Mai-Wel, you are contributing to long term employment opportunities for people with a disability in the Hunter.
Additional to this, Mai-Wel runs an experienced specialist employment service Mai-Wel LabourForce Solutions, helping employers meet their labour needs and offering an end-to-end recruitment solution to the business community.
Established in 1960, Mai-Wel is one of the larger employers in the Maitland region, injecting $18.3 million worth of wages into the community in 16-17.
The contribution we make to the community
The Mai-Wel Group contributes significantly to the local community by offering employment for people with a disability, and services in the areas of living options, lifestyle and leisure and working life. Mai-Wel also supports those experiencing disadvantage or youth to get a job. Mai-Wel employs more than 400 people and injects more than $18 million dollars' worth of wages into the community.

The opportunities Mai-Wel provides enhances the lives of people with a disability or those experiencing disadvantage. Mai-Wel helps to link people to their local community, with the goal of empowerment and inclusion.
How supported employees and their families benefit
The Mai-Wel Group provides meaningful employment opportunities to more than 100 people with a disability in the community through employment in Mai-Wel Enterprises. Mai-Wel Enterprises offer a range of employment options in the areas of timber crate and pallet manufacturing, light engineering, sorting and assembling, confidential paper destruction, printing and scanning.
Many families witness a significant increase in independence when the person with a disability commences work. Many supported employees have moved into independent living.
When asked what they like most about work, supported employees are unanimous in agreeing that they like earning their own money, making friends at work and keeping busy. Supported employees feel valued and are able to contribute to their local community.
Organisation contacts
Business Contact
Tony Heard
Ph: 0427 304133
Em: tony.heard@maiwel.com.au
HR Contact
Lisa Dent
Ph: 02 4057 2900
Em: lisa.dent@maiwel.com.au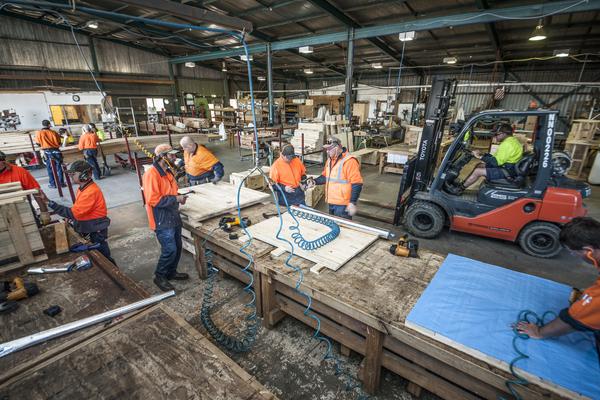 ---
Outlets (1)