Organisation Details
Brief description
The Thorndale Foundation was established in 1959, as a parent based, not for profit organisation supporting the needs of people with intellectual disabilities in the Nepean area.
The early beginnings of the Foundation were as a school for children with disabilities and after initially utilising various temporary accommodations, in 1964 the Thorndale Centre at Rance Road, Werrington, was officially opened.
In 1984 the Foundation became part of the Challenge Foundation before again becoming autonomous in 1993, when the Thorndale Foundation Limited formed as a public company limited by guarantee.
Today, the Foundation operates a range of support services for participants with National Disability Insurance Scheme (NDIS) plans.
Thorndale Foundation has remained a passionate and dedicated not for profit organisation, supporting people with disability to help achieve their goals for almost 60 years.
Our vision is to ensure that all people with disability live in a community where equality is a way of life.
The contribution we make to the community
Thorndale aims to provide opportunity and equality for people with disability within the Nepean, Hawkesbury and lower Blue Mountains community regions with services in Employment, School Leaver Employment Support (SLES), Improved Life Skills, Residential Support, Support Coordination and Recreation and Leisure activities.
Services provided through Thorndale's employment enterprise include:
• Weed control and management
• Mowing
• Mulching
• Warehousing and storage services
• Shrink wrapping services
• Packaging
• Contract packaging
• Waste collection and disposal
• 3PL 3rd party logistics (pick n' pack)
• Mailing services/Mail fulfilment services
• Managed print services
How supported employees and their families benefit
Thorndale supported employees enjoy all the benefits that come from being in meaningful employment. The benefits can include learning new skills, making new friends, increased self esteem and confidence and a connection with the community.
Thorndale also provides a social program that offers participants the chance to unwind, make new friends and enjoy a range of fun filled weekend and evening activities in their local and broader community.
Organisation contacts
Business Contact
John Yealland
Ph: 02 9912 7800 Administration Option 3
Em: info@thorndale.com.au
HR Contact
Susan Toole
Ph: 02 9912 7800 Administration Option 2
Em: susant@thorndale.com.au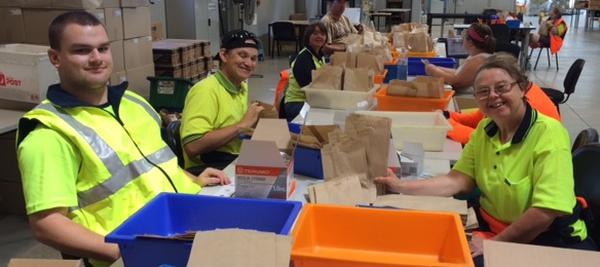 ---
Outlets (1)