Organisation Details
Brief description
We create meaningful employment for people with disabilities and from disadvantaged backgrounds through the operation of the 'for purpose' commercial laundries, delivering high quality, professional laundry and linen services to Tasmanian businesses.
The contribution we make to the community
The benefits of gainful employment for people with disabilities and disadvantage extend throughout the wider community. Blueline Laundry betters community in which we live and work by provide stable, long term employment to our vulnerable workforce.
How supported employees and their families benefit
Greater independence, social activities, and community involvement are just some of the benefits that working at Blueline provides.
Our Supported Employment Program enables our team members with disability to access real work in a real work location.
Supported workers are involved in all areas of the laundry. Staff members also work alongside supported employees in each area to ensure support is offered throughout the working day.
Blueline Laundry is committed to empowering all staff to achieve their full potential. We provide full training with the opportunity to gain nationally recognised qualifications.
Organisation contacts
Business Contact
Administrator
Ph: 03 6278 8299
Em: info@blueline-laundry.com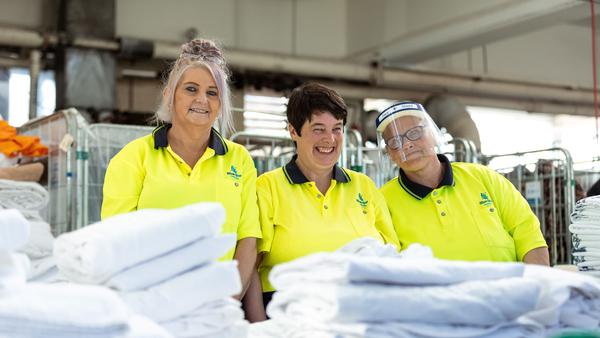 ---
Outlets (2)