Organisation Details
Brief description
Unisson Disability has been providing Supported Employment for more than fifty years through our employment servicesPack Works, and Ground Works.
We provide professional, cost effective and customer focussed packaging, mail processing, ID Card printing and sample bag fulfilment as well as grounds maintenance to some of Australia's most respected commercial, local and state government organisations.
While we are a not for profit organisation we pride ourselves on our work being accurate and high quality, no matter the deadline we are given.
The contribution we make to the community
We promote inclusion and diversity within the local communities.
We promote greater independence of people with a disability within the local communities.
By providing meaningful, paid employment for people with intellectual or physical disability we facilitate independence, self-respect and opportunities to enable them to become fully contributing members of the community. We encourage our supported employees to have friendships and community networks (within their communities) separate to their families.
We promote attendance by our supported employees in sporting, social and recreational activities within their communities. We provide linkages for our employees to access other service providers, community activities and groups of interest.
How supported employees and their families benefit
Our supported employees are the foundation of our business.
We provide meaningful, sustainable and valuable employment to over 70 Australians with a disability.
We harness the individual capabilities of each employee in a safe, supportive environment that offers development opportunities. Our priority is to ensure that each employee has the opportunity to develop to their full potential as a member of the Australian workforce.
This also gives the employees a sense of worth as well as self-confidence, which enables them to become active and involved members of their communities
Our support staff work with each employee to achieve their personal and individual goals.
Organisation contacts
Business Contact
Elke Schreiner
Ph: 0450 140 544
Em: elkeschreiner@unisson.org.au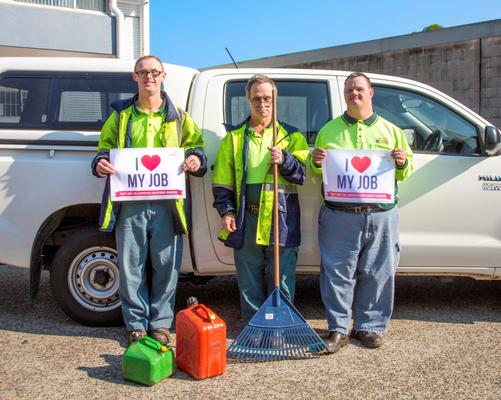 ---
Outlets (2)