West Australian Jobs Expo proves a hit with supported employees and their parents and carers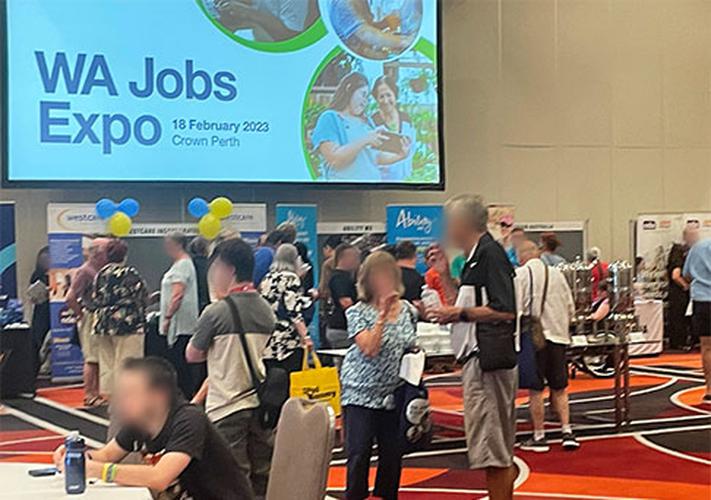 NDS and the WA Transition Team hosted a successful day long Jobs Expo on 18 February 2023 at the Crown Perth.
The Expo provided supported employees affected by the impending closure of Activ's large-scale business sites the opportunity to explore a range of different employment and vocational opportunities.
50 exhibiters provided information on a range of topics including:
How to maximise employment supports funded in NDIS plans
Vacancies available in other Disability Social Enterprises
Vacancies available in open employment
How to access a Disability Employment Service (DES)
Managing change and making the most of opportunities that can arise in a changing environment
Over 570 people registered for the event. During the afternoon session a sizeable number of unregistered people attended, following them becoming aware of positive feedback posted by the morning attendees on the Activ Action Team's Facebook page. Consequently, over 600 people attended the event.
25 Exhibiters participated on the day providing a range of information to all attendees. Exhibitors included:
Supported Employment providers
Disability Employment Services
School Leaver Employment Support providers
Vocational option providers
The NDIA
Services Australia
Bunnings
The NDS BuyAbility Jobs Board
The event opened with an address from Minister for Social Services Amanda Rishworth MP who delivered a strong message of understanding and support for the individuals impacted. The event also included a morning presentation by the NDIA showing how NDIS participants could maximise the funded employment supports in their plans.
Some very positive feedback was provided by attendees who indicated:
The information available was very useful, in depth and more comprehensive than they'd previously received
They were better informed about the options, supports and services available
They appreciated having the NDIA and Services Australia available to provide information
Link to PDF Slideshow: NDIA presentation at the WA Jobs Expo - Employment and the NDIS