A beanie that made a difference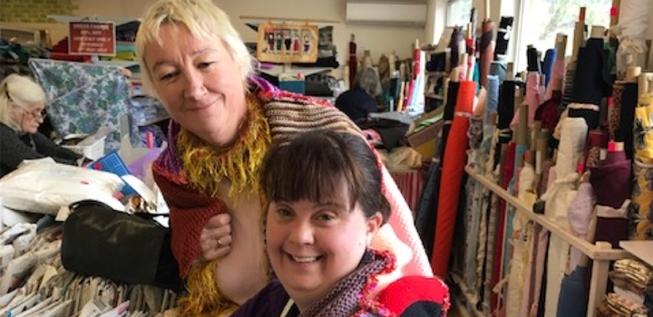 Meet Laura Holloway, a long-standing customer of Achieve Australia's highly successful social enterprise, "Fabric, Needlecraft and More" shop in Meadowbank, Sydney.
Laura, one of the shop's best customers, puts her talent for crocheting to good use to produce over 120 beanies for Sydney's homeless people each winter.
Once completed, Laura will seek out the most vulnerable homeless people she can find and hand them a beanie in person. One by one she distributes her beanies where they are most needed.
She buys all her wool at our shop and spends about 3 hours on each beanie.
Jenny McCallum, a supported worker at the shop, is a friend of Laura and takes a great interest in her support for homeless people.
Inspired by Laura to make her own contribution, Jenny set about knitting a rug over several months to donate to a homeless person.
Laura made a special trip to the Meadowbank shop to accept Jenny's gracious and heart-felt gift.